Are We Nearing a Market Bottom?
U.S. stocks posted their third straight quarter of losses for the first time since 2009. With a recession looming in the United States, and probably already underway in Europe, it's tough to see a catalyst for a durable, near-term market rebound, even with the early fourth-quarter rally. Stocks and bonds are likely to come under further pressure as long as the U.S. Federal Reserve and other central banks continue to aggressively tighten monetary policy.
Markets took another leg down after the Fed delivered its third consecutive 75 basis points (bps) rate hike last month, lifting the federal funds rate to a target range of 3.00% to 3.25%, the highest level since 2008. The Fed's latest projections show it intends to take rates above 4.50% in the months ahead, and Fed officials have warned they would continue to tighten monetary policy to tame inflation.
At some point, the impact of higher rates and deteriorating economic conditions will bleed into corporate earnings, says Capital Group economist Darrell Spence. "While equity markets have declined, expectations for corporate earnings are likely still too high," Spence explains.
A number of companies have already issued downbeat outlooks or announced plans to rein in spending by imposing hiring freezes or outright workforce reductions, or halting capital projects. This includes Nike, FedEx, Ford and some high-profile technology giants such as Meta Platforms and Alphabet.
"Consensus market expectations are for earnings to grow in 2023. However, if the economy does enter a recession, earnings could easily fall 15%, or even more, considering the strong dollar and rising labor costs," said Spence. "As such, there seems to be some potential for downward revisions to consensus earnings estimates."
Equities May Fall Further Before They Recover
A 15% decline in earnings would put the estimated price-to-earnings ratio for the S&P 500 Index in the range of 19 to 20. "In an environment where interest rates are rising, and the 10-year Treasury yield could potentially exceed 4.0%, history suggests a price-to-earnings multiple in the mid-teens would be more appropriate," said Spence. "The combination of lower consensus earnings estimates and multiple compression could present a difficult headwind for the equity market."
In a challenging environment for equities, it's worth looking for areas that have fared relatively well in periods of market decline. Historically, dividend-paying stocks tend to do better than the broader market, according to Capital Group economist Jared Franz. "In terms of individual sectors, it's historically staples, health care and utilities that have held up well."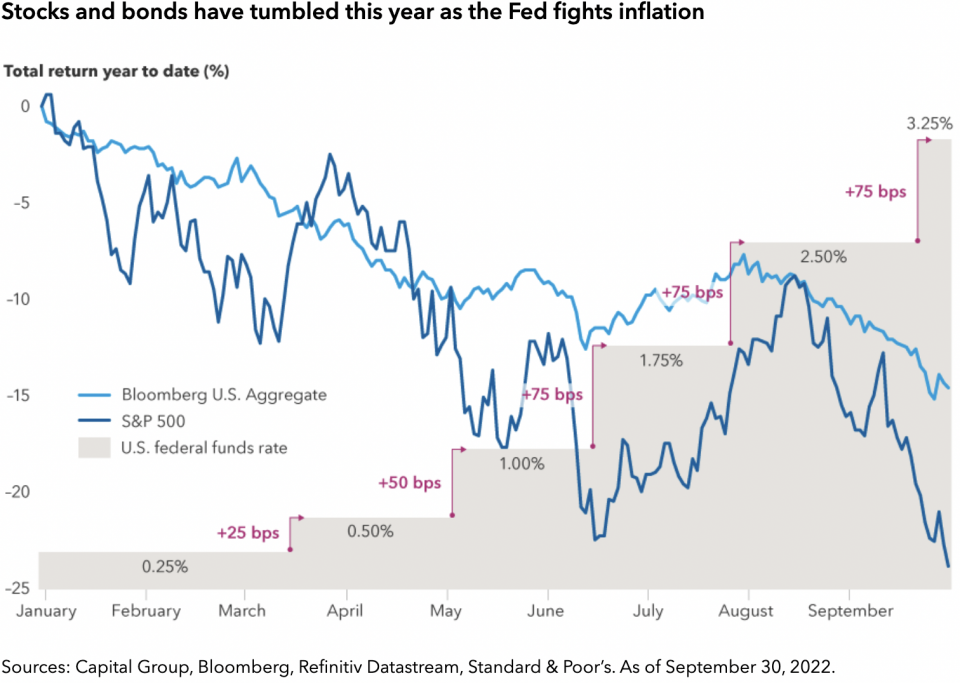 Moreover, while equity markets broadly may not have touched bottom, many portfolio managers are starting to find value in select areas of the market.
Based on the trajectory of past downturns, bear markets associated with a recession have a median decline of about 36% and tend to last, on average, about 18 months. So, it wouldn't be unusual for this one to continue well into 2023. That said, using deep, fundamental research, many portfolio managers and analysts are starting to see opportunities to invest in good companies at attractive prices.
The U.S. economy is healthier compared to Europe, Japan and China, which have been beleaguered by Russia's escalation of the war in Ukraine, energy supply disruptions, severe COVID-19 restrictions, global supply chain dislocations and controversial fiscal policies by the United Kingdom's new government. U.S. consumer spending has proven to be resilient, and the labor market has remained robust. Nevertheless, parts of the economy appear to be weakening. Incoming homebuilder data are weak, and these data are good leading indicators for sales, starts and prices. Indeed, the S&P CoreLogic Case-Shiller U.S. National Home Price NSA Index registered a monthly decline in July, the first since 2019 and largest since 2012. When housing turns lower in a late cycle, as it is now, a recession has tended to follow.
Darrell R. Spence covers the United States as an economist and has 29 years of industry experience (as of 12/31/2021). He holds a bachelor's degree in economics from Occidental College. He also holds the Chartered Financial Analyst® designation and is a member of the National Association for Business Economics.
Jared Franz is an economist with 16 years of industry experience (as of 12/31/21). He holds a PhD in economics from the University of Illinois at Chicago and a bachelor's degree in mathematics from Northwestern University.
---
The S&P 500 Index is a market capitalization-weighted index based on the results of approximately 500 widely held common stocks.
The Bloomberg U.S. Aggregate Index represents the U.S. investment-grade fixed-rate bond market.
The S&P CoreLogic Case-Shiller Home Price Indices are calculated monthly using a three-month moving average. Index levels are published with a two-month lag and are released at 9 am EST on the last Tuesday of every month. Index performance is based on non-seasonally adjusted data.
The Trade-Weighted U.S. Dollar Index, also known as the Nominal Broad-Dollar Index, is a creation of the U.S. Federal Reserve Bank. It is used to measure the value of the U.S. dollar against currencies widely used in international trade, rather than against all currencies.
Investments are not FDIC-insured, nor are they deposits of or guaranteed by a bank or any other entity, so they may lose value.
Investors should carefully consider investment objectives, risks, charges and expenses. This and other important information is contained in the fund prospectuses and summary prospectuses, which can be obtained from a financial professional and should be read carefully before investing.
Statements attributed to an individual represent the opinions of that individual as of the date published and do not necessarily reflect the opinions of Capital Group or its affiliates. This information is intended to highlight issues and should not be considered advice, an endorsement or a recommendation.
All Capital Group trademarks mentioned are owned by The Capital Group Companies, Inc., an affiliated company or fund. All other company and product names mentioned are the property of their respective companies.