Second Quarter 2022 Market Review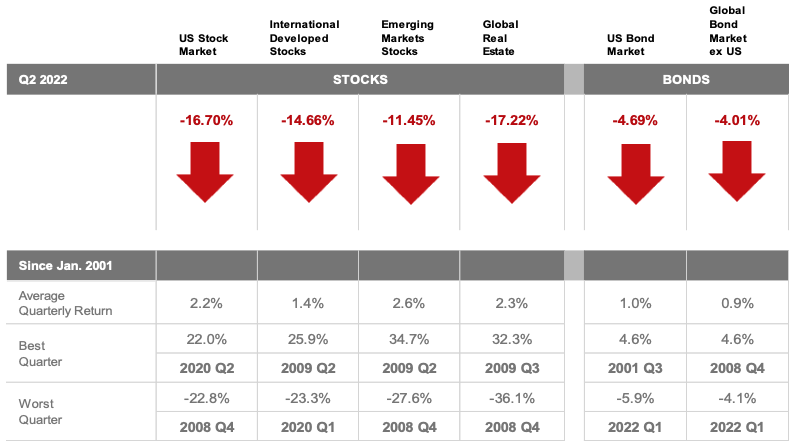 We have to accept that these shocks will happen. We should prepare for them rather than try to predict them. This time there is inflation, fear of a recession, a war in Ukraine, and increased volatility. We don't know when this will end. We also won't know exactly what will cause the next shock or when it will occur. The only thing I can guarantee is that it's going to be a surprise (because if it weren't, the market would have priced that in).
Click Here for Quarterly Summary
When you can be a long-term investor and think in terms of decades rather than years, you have the greatest chance of capturing the power of compounding. Those little extra gains add up over time. It helps explain why over the past 95 years (including all those shocks that have happened), the return for the general stock market has been around 10% a year.1
FOOTNOTES
1 In US dollars. S&P 500 Index annual returns 1926–2021. S&P data © 2022 S&P Dow Jones Indices LLC, a division of S&P Global. All rights reserved.
DISCLOSURES
Diversification does not eliminate the risk of market loss.
The information in this material is intended for the recipient's background information and use only. It is provided in good faith and without any warranty or representation as to accuracy or completeness. Information and opinions presented in this material have been obtained or derived from sources believed by Dimensional to be reliable and Dimensional has reasonable grounds to believe that all factual information herein is true as at the date of this material. It does not constitute investment advice, recommendation, or an offer of any services or products for sale and is not intended to provide a sufficient basis on which to make an investment decision. Before acting on any information in this document, you should consider whether it is suitable for your particular circumstances and, if appropriate, seek professional advice. It is the responsibility of any persons wishing to make a purchase to inform themselves of and observe all applicable laws and regulations. Unauthorized reproduction or transmitting of this material is strictly prohibited. Dimensional accepts no responsibility for loss arising from the use of the information contained herein.
"Dimensional" refers to the Dimensional separate but affiliated entities generally, rather than to one particular entity. These entities are Dimensional Fund Advisors LP, Dimensional Fund Advisors Ltd., Dimensional Ireland Limited, DFA Australia Limited, Dimensional Fund Advisors Canada ULC, Dimensional Fund Advisors Pte. Ltd, Dimensional Japan Ltd. and Dimensional Hong Kong Limited. Dimensional Hong Kong Limited is licensed by the Securities and Futures Commission to conduct Type 1 (dealing in securities) regulated activities only and does not provide asset management services.
Risks
Investments involve risks. The investment return and principal value of an investment may fluctuate so that an investor's shares, when redeemed, may be worth more or less than their original value. Past performance is not a guarantee of future results. There is no guarantee strategies will be successful.
Past performance is not a guarantee of future results. Indices are not available for direct investment. Index performance does not reflect the expenses associated with the management of an actual portfolio.
Market segment (index representation) as follows: US Stock Market (Russell 3000 Index), International Developed Stocks (MSCI World ex USA Index [net dividends]), Emerging Markets (MSCI Emerging Markets Index [net dividends]), Global Real Estate (S&P Global REIT Index [net dividends]), US Bond Market (Bloomberg US Aggregate Bond Index), and Global Bond Market ex US (Bloomberg Global Aggregate ex-USD Bond Index [hedged to USD]). S&P data © 2022 S&P Dow Jones Indices LLC, a division of S&P Global. All rights reserved. Frank Russell Company is the source and owner of the trademarks, service marks, and copyrights related to the Russell Indexes. MSCI data © MSCI 2022, all rights reserved. Bloomberg data provided by Bloomberg.